Why do many women require support during and after their pregnancies?
Almost ½ of all women will experience pain in their low back or pelvic region at some point in their pregnancy. While there are many causes for this, two common ones are loss of support from the expanding abdomen and laxity of the joints of the pelvis (sacroiliac and/or pubic symphysis).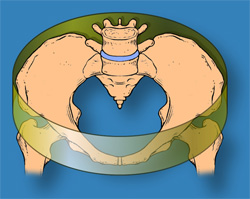 Many maternity belts only support one part of the pelvis; either the front or the back or just generally squeeze the entire pelvic ring (see photo). The Baby Belly Pelvic Support™ is capable of providing support exactly where YOU need it, for some this is in the front (pubic symphysis and low belly) and for others this is in the back (sacroiliac joints and low back). Where you need support can change as your pregnancy advances, in some months you will find you need help at the front and in others at the back of your pelvis.
---
The innovator – Diane Lee
The innovator of this patented belt, physiotherapist Diane Lee, has over 35 years of clinical experience working with women before, during and after pregnancy. This unique belt designed for pregnancy and beyond is the outcome of her extensive clinical experience.